Thomas Kyte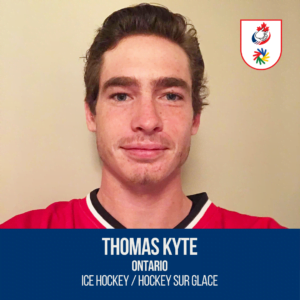 Sport:
Ice Hockey
Age: 23
Height: 6'0″ / 183 cm 
Province: Ontario
Previous Games:
2017 World Deaf Ice Hockey Championship (Amherst, USA)
2015 Winter Deaflympics (Khanty-Mansiysk, Russia) 
His sports debuts:
His parents got him into hockey while they were living in Evergreen Colorado. He was 3 or 4 years old and very luck enough to have parents that introduced him to the sport very early. 
His first international competition:
His first international competition was the 2015 Winter Deaflympics in Russia. It was an unbelievable experience for him to represent his country with guys that he will be friends with for the rest of his life.

His goal for the 2019 Winter Deaflympics:
His goal is to bring the gold medal back home. 
His biggest pride in his athletic career:
He is very proud to representing his country. 
More about Thomas Kyte:
He also does long distance running.
His motto:
Hard work beats talent when talent doesn't work hard.
In the News: