Matthew Sheffield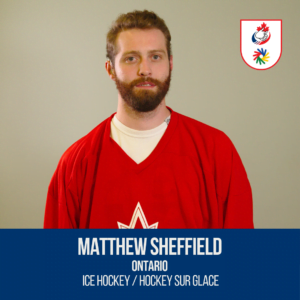 Sport: Ice Hockey
Age: 27
Province: Ontario
Previous Games:
2013 World Deaf Ice Hockey Championships (Vantaa, Finland)
2015 Winter Deaflympics (Khanty-Mansiysk, Russia)
2017 World Deaf Ice Hockey Championship (Amherst, USA)
His Sports Debut:
As he learned how to walk, he skated at 3 years old with his family. Then, back in 1999, at 6 years old and tall like three apples, he followed all his friends and started playing hockey in Port Credit.
His First International Competition:
His first international competition was supposed to be in Slovakia, but the Winter Deaflympics at the time were cancelled. Despite the unfortunate events, it was a great learning curve for him to be with all the guys and getting to see Europe for the first time!
His Goal for the 2019 Winter Deaflympics:
Easy to win gold and bring it back!
His Biggest Accomplishment in His Athletic Career:
It is their attitude on and off the ice as they're representing our country.
More about Matthew Sheffield:
When he's not honing his elite ice hockey skills, he enjoys playing golf and lacrosse.
His motto:
Hard work beats talent when talent doesn't work hard.
In the news:
Deaf hockey players compete on world stage for Canada (March 23, 2013)