Johnny Kyte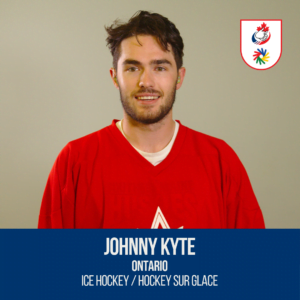 Sport:
Ice Hockey
Date of Birth: August 2, 1995
Age: 24
Height: 6'0″ / 183 cm 
Birthplace: Carp, ON
Current Residence: Carp, ON
Games:
2015 Winter Deaflympics (Khanty-Mansiysk, Russia)
2017 World Deaf Ice Hockey Championship (Amherst, USA)
His sports debut:
Johnny started at a very young age trying all sports. He liked hockey the best and flew with it. It was in 1999 that he started out on the ice and learned how to play hockey with his father in Colorado, USA. It wasn't without challenges and he kept coming back to the rink so he could keep improving.
His first international competition:
It was in 2015 when he experienced his first international competition along with Team Canada at the 2015 Winter Deaflympics in Khanty-Mansiysk, Russia. It was an eye-opening experience for him to have the opportunity to play and learn along with other ice hockey players.
His goal for the 2019 Winter Deaflympics:
After winning silver at both the 2015 Winter Deaflympics (Khanty-Mansiysk, Russia) and the 2017 World Deaf Ice Hockey Championship (Amherst, USA), he aims for gold.
His biggest accomplishment in his athletic career:
Being able to knock down any barriers and goals that he has. It may take time, but he will always continue to chip away at it until he reaches his end game.
More about Johnny Kyte:
When he's not training or competing on ice, he enjoys hanging out with friends and casting off for adventure.
His motto:
Hard work beats talent when talent doesn't work hard.
In the news: