Holly Jamieson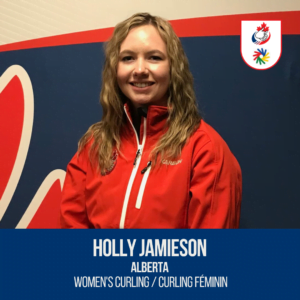 Sport:
Women's curling
Age: 25
Province: Alberta
Previous Games:
2017 World Deaf Curling Championships (Sochi, Russia)
2015 World Junior Curling Championships (Tallinn, Estonia)

Her Sports Debut: 
She started in Sherwood park, in a junior curling program in 2003. She was 9 years old. Then, she watched her parents curl in a Friday night "date night" curling league at the Ottewell in Edmonton. Then, she finally tried the sport and, from age 11, she has been in curling at the competitive level. 
Her First International Competition:
U18 optimist international in Regina, SK was her first competition when she was 16 years old, in 2010. There were 4 teams from the United States and one team from Japan.
Her Goal for the 2019 Winter Deaflympics:
Her goal is to win a medal and stand on the podium, proudly representing her country.
Her Biggest Accomplishment in Her Sports Career:
Her biggest accomplishment is being able to be successful and competitive on an international scale. Winning Gold at the 2015 World Junior Curling Championships is a memory she will cherish forever. However, winning Bronze at the 2017 World Deaf Curling Championships is just as memorable, especially to play as a Skip and show she don't need her hearing to be successful.
More about Holly Jamieson:
She always play curling! She also enjoys golf and fitness.
Her motto:
Strive for excellence and overcome adversities.
In the News: