Graham Bodnar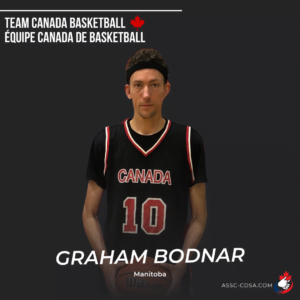 From Winnipeg, Graham seems to be immune to the passing of time. He is a Canadian Deaf basketball legend, being the oldest player on the team at 41. 
Graham played basketball as a student at Providence College in Otterburne, Manitoba. He also played 3×3 basketball in the FIBA World Tour and the 3×3 EXE, a professional league in Japan.
It's only been in the last few years that Graham has participated in international Deaf basketball competitions:
2019 – Pan American Deaf Basketball Tournament in Indianapolis, Indiana (USA)
For these 2022 Deaf Pan American Games in Argentina, he sees the opportunity to represent Canada against the other best teams in the Pan American region. He aims to help his team qualify for the Summer Deaflympics in Japan in 2025. 
Graham's favourite basketball player is none other than Michael Jordan, who he views as the ultimate competitor and winner.
An interesting fact about Graham is that he's a Physical Education Teacher.