2022 Canada Deaf Games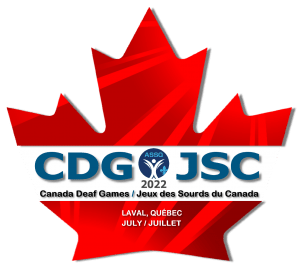 The Association sportive des Sourds du Québec will welcome the Canada Deaf Games in July 2022 the Montreal region, Quebec.
Visit the website and read the PPT presentation presented to the Provincial Deaf Sports Associations during the information session on June 4, 2021.
The CDG don't have a 'competition' component like the World Championships or Deaflympics, but also a 'participation' component in a friendly atmosphere. They also offer a great opportunity to meet other Deaf and hard of hearing athletes from other provinces as well as to lead an active lifestyle. However, the most important goal of the Games is to have fun!
---
Information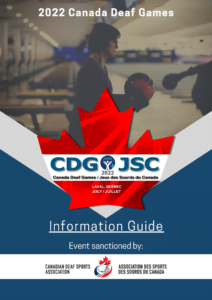 ---
Official Sports
The official sports at the Games will be:
Beach volleyball | Basketball | Badminton | Pickleball | Bowling | Golf | Volleyball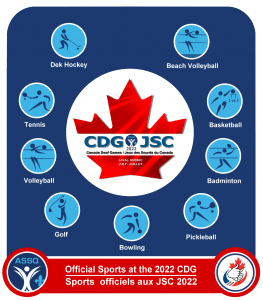 ---
2022 CDG Schedules
---
Registration
Registration forms are now available, please consult the Information Guide first.
We encourage all participants to register and to contact their Provincial Deaf Sports Association (PDSA) for information on financial assistance. Contact information for each PDSA is available below.
Registration procedures for PDSA (BCDSF, ADSA, SDSA, MDSA, ODSA)
Registration procedures for participants from Quebec and the Maritime provinces (NS, NB, PEI and NL)
---
Sport Technical Rules
Beach Volleyball | Basketball | Badminton | Pickleball | Bowling | Golf | Volleyball
---
Sponsorship Package
---
Description of the CDG logo
Creating a unique logo for the CDG was a challenge as there is plenty of the deaf-related iconography to draw from. Participants of the CDG are strong individuals, so I wanted a different and unique look. I also wanted a different shape for the logo. I separated the maple leaf in the middle to fit the wording in. The red and white maple leaf was chosen, because it is Canadian. The creative lighting into the maple leaf's background and shadow is a different style as it gives the finishing touch.
Creator: Patrick Griffith
---
News & Press Release

Back to Events