Dale Proctor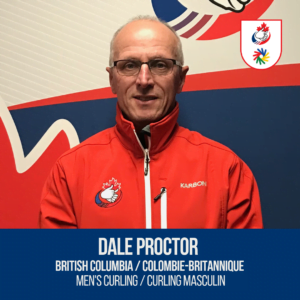 Sport:
Men's curling 
Age:  60
Province: British Columbia 
Games:
1995 World Deaf Golf Championships (Meridien, USA)
1998 World Deaf Golf Championships (Allentown, USA)
2002 World Deaf Golf Championships (Dublin, Ireland)
2006 World Deaf Golf Championships (Edmonton, Canada)
2008 World Deaf Golf Championships (Perth, Australia)
2009 World Deaf Curling Championships (Winnipeg, Canada)
2010 World Deaf Golf Championships (St.Andrews, Scotland)
2012 World Deaf Golf Championships (Tsu, Japan)
2014 World Deaf Golf Championships (Michigan, USA)
2016 World Deaf Golf Championships (Copenhagen, Denmark)
2018 World Deaf Golf Championships (Maynooth, Ireland)
His Sports Debut:
He started to learn how to play curling at the age of 26 in 1986 at the Vancouver Curling Club.

His First International Competition:
In curling, his first international competition was at the 2009 World Deaf Curling Championships in Winnipeg (Canada). He was a little bit nervous for his first international competition but after that, he felt inspired and proud. 
His Goal for the 2019 Winter Deaflympics:
He aims to win and bring pure gold medal back to Canada.
His Biggest Accomplishment in His Athletic Career:
The excitement and pride that one feels is incredible.
More about Dale Proctor:
He is also a seasoned golfer and also plays 10 pin bowling. He won the gold medal at the World Curling Championship in 2009, the bronze medal at the World Curling Championship in 2002, and finished 4th at the 1995 World Golf Championships.
His motto: 
It may be hard to believe sometimes, but when we really want something, we can do it!