2022 Summer Deaflympics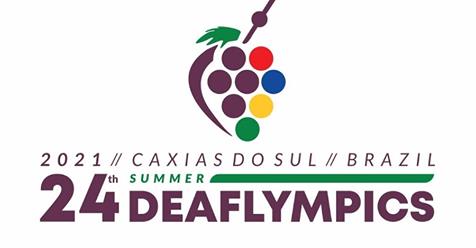 ---

The 2021 Summer Deaflympics was postponed to 2022 and was held in Caxias do Sul, Brazil from May 1 to 15, 2022.
For Facebook consultation between April 21 and May 12, 2022.
All about 2022 Summer Deaflympics: Deaflympics official webiste
---
SPORTS RESULTS
---
HIGHLIGHTS
1st participation of a Women's Beach Volleyball team in a Summer Deaflympics
1st participation of a golf team

in a Summer Deaflympic

9 out of 15 athletes were in their first participation in the Summer Deaflympics
Largest number of players registered in badminton discipline 

at the Deaflympics with 5 athletes, four of whom represent diversity

A great performance by the tennis team 

with a total of 3 wins including including one in Men's Doubles

The youngest player on the Canadian team was Vaunn Smith (20 years old), a beach volleyball athlete
Honorable mention to Lance Gordon, 55-year-old badminton athlete who participated for the last time and for a 5th time at these Games
A first medal

at the Summer Deaflympics since 2009 by a Canadian athlete, the golfer Russell Bowie
---
DIVERSITY 
Members of the Canadian team who were part of the trip to the Summer Deaflympics in Brazil: 
---
MEET TEAM CANADA'S ATHLETES
The CDSA was proud to announce the selection of its 4 national teams to represent Team Canada at the Deaflympics. No less than 15 Canadian athletes from five provinces was present in Brazil.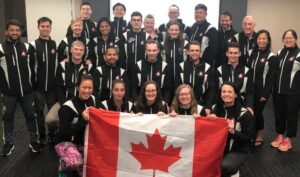 Follow Teams Canada here:
---
TEAM CANADA 2022 – STAFF MISSION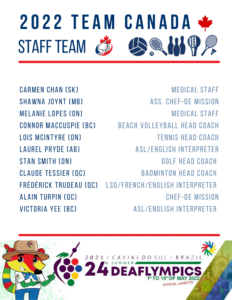 ---
MEDIA COVERAGE BEFORE AND DURING DEAFLYMPICS
April 27, 2022 – Team Canada getting ready for the Summer Deaflympics
February 11, 2022 – Team Canada at Deaflympics during pandemic?
January 29, 2021 – PRESS RELEASE – Postponement of the 2021 Summer Deaflympics