Zacharie Bérard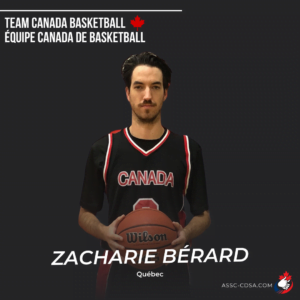 Zacharie is 28 years old and is originally from Granby, Quebec. He was a member of the Champlain College Lennoxville basketball team from 2011 to 2014 while in school.
This is not his first time playing on the national basketball team. His record is as follows:
2010 – World U21 Deaf Championship in Lublin, Poland
2012 – Deaf Pan American Games in Praia Grande, Brazil
2016 – Deaf Pan American Games in Frederick, USA
For the 2022 Deaf Pan American Games in Buenos Aires, Argentina, Zacharie sees an opportunity to represent Canada on an international stage and to meet people from around the world. His ultimate goal is to finish in the top 3 and qualify for the next 2025 Deaflympics in Japan! 
Zacharie admires Lebron James, "He is the GOAT, his longevity and dedication to the craft is something to admire."
Interesting facts about Zacharie: He plays many sports, but his new passion these days is golf. He is also a real estate agent in the Montreal area, so if you are looking to buy a property, you know who to contact!