Women's Volleyball: Paige McDonald Likes Challenges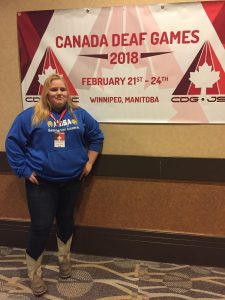 Paige McDonald became hard of hearing at 14 years old. Two years later, she participated in her first Canada Deaf Games in Winnipeg and next month, she will be in Montpellier, France with the Deaf women's volleyball development team for an European tournament.
Team Canada won a bronze medal at the last Pan American Games (2016), placed 7th at the 2016 World Championships and qualified for the 2017 Summer Deaflympics.
While it is new for McDonald to play volleyball with Deaf and hard of hearing she is not stranger to the sport as she has been playing at the school level in the last seven years.
"I loved participated at the Canada Deaf Games and to get to know other athletes and practice with them," said McDonald.
It was an important moment in her athletic career, because she wont the gold medal with her team at these Games.
"It is Paige that discovered us the Manitoba Deaf Sports Association (MDSA) from a referral. She is such a humble and friendly athlete, and will take on to participate in whatever opportunity that is presented front of her," said MDSA President Brenda Comte.
The 16-year-old teen spent the winter working out in the gym and play volleyball at the Manitoba School for the Deaf in preparation for the Canada Deaf Games and European tournament in Montpellier.
"It is quite the opportunity to go to France. I am very excited to go with the team," said McDonald, who likes to compete.
"She is truly an inspiration to us at MDSA and to fellow athletes in Manitoba. She has shown her motivation and eagerness to participate in Deaf Sports. She has also shown that her hearing loss does not deter her from participating. We wish her all the best of luck in her volleyball career and we are very proud of her accomplishments," said Mrs Comte.
After Montpellier McDonald plans to continue playing volleyball with her school team as she will be in her last high school year as well as with Deaf and hard of hearing at the Manitoba School for the Deaf.
Once she completes high school, McDonald would like to study to be an Agriculture Technician or Welder at the Assiboine Community College in Brandon, Manitoba.
Back to News