Women's Volleyball: Abbie Langille Wants to Leave her Mark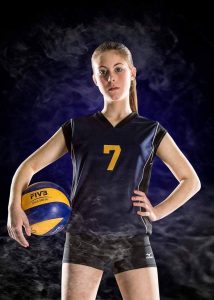 Native of Truro in Nova Scotia Abbie Langille will participate in a tournament for the first time with the Deaf Women's Volleyball Development team in Montpellier, France from May 18th to 20th.
Langille looks forward to meet her new Deaf and hard of hearing teammates, and to create new friendships.
Team Canada won a bronze medal at the last Pan American Games (2016), placed 7th at the 2016 World Championships and qualified for the 2017 Summer Deaflympics.
Sixteen years old Langille has been involved in sports since she was a child, but she chose to focus on volleyball. She plays on her school team as well as with the Truro Cougars since the last six years.
"I love volleyball and it has always been my favourite. I love being part of a team and be on the court," said Langille, who plays power.
With her local club Langille took part in five provincial championships and one national championship. With her school team she participated in regional tournaments.
April was a busy month for Langille as she played a Super Series on April 6th and 7th and took part in the Elite of the East tournament in Fredericton, NB on April 14th and 15th. She wrapped up the month with a provincial championship in Halifax, NS on April 21st. These tournaments allowed her to train and get ready for the European competition this month.
After this European event, Langille would like to continue playing on the Canadian women's volleyball team and play at the 2021 Summer Deaflympics.
"I would love to continue play on the team as well as play at the university level after high school," said Langille.
Langille would like to pursue a career in forensics or be a police officer.
Back to News