Terry Bagnato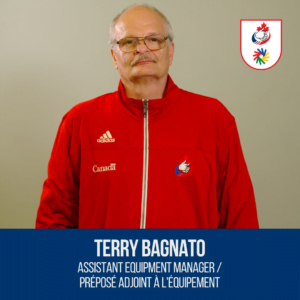 Mission Staff: Assistant Equipment Manager
Province: Ontario
His Sports Debut: 
He started playing hockey outside when he was 8 years old, back in 1963. 
His First International Competition:
His first international competition was during the 2017 World Deaf Ice Hockey Championship in Amherst, USA.
His Goal for the 2019 Winter Deaflympics:
His goal for the upcoming Deaflympics is to win!
His Biggest Accomplishment in His Sports Career:
His biggest accomplishment in his sport career is to be part of Team Canada and making sure that all the players have everything they need to play.
More about Terry Bagnato:
He loves to watch sports.
His motto:
Try your best.