Taina Smiley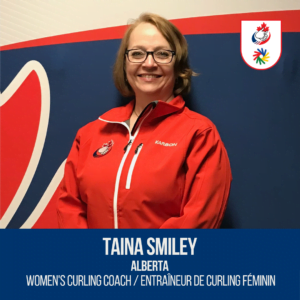 Mission Staff:
Women's curling coach
Province: Alberta
Previous Games:
N/A
Her Sports Debut:
She started playing curling in High Prairie, Alberta with her parents in a school league when she was in middle school at 12 years old. Then, she started coaching when her daughter was in junior curling.
Her First International Competition:
World Deaf Curling Championship 2017 in Sochi, Russia was her first international experience. It was Deaf worlds with the Canadian Ladies team. It was a wonderful experience, connecting with other countries and cultures.  Bringing home the Bronze medal was the icing on the cake!
Her Goal for the 2019 Winter Deaflympics:
Representing Canada well, and bringing home a gold medal!
Her Biggest Accomplishment in Her Sports Career:
Her biggest achievement in her career is watching the team develop and evolve into the great team that they are now; Working hard on all parts of the game, and making tough decisions to make the team work.
More About Taina Smiley: 
She only loves curling!
Her Motto:
"You must expect great things of yourself before you can do them" Michael Jordan
In the news: