Susanne Beriault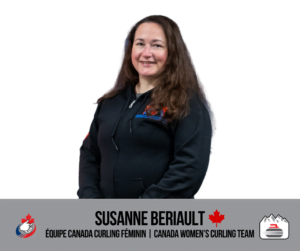 Province: Manitoba (MB)
Her goal for the 2022 World Curling Championship is:
To represent Canada proudly by winning a medal!
Her favourite curling athlete (idol) or team is:
Kerri Einarson. She's Metis like her, and she's been versatile with playing in mixed doubles and women's teams.
Her success in curling is due to:
The support of her family.
More about Susanne:
She loves learning new things. She graduated from university with a Bachelor of Science degree, majoring in Mathematics, as well as an Environmental Protection Technology diploma. She is always expanding her knowledge by reading and researching online.