Sherry Clark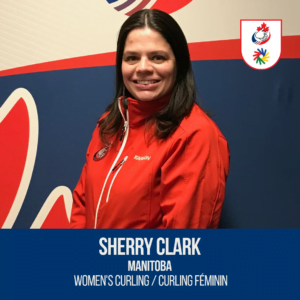 Sport: Women's curling
Province: Manitoba
Previous Games:
2007 Winter Deaflympics (Salt Lake City, USA)
2009 World Deaf Curling Championship (Winnipeg, Canada)

Her Sports Debut:
She started learning curling in Winnipeg with her mom's friends and at school when she was 12 years old. 
Her First International Competition:
Her first international competition was at the 2007 Salt Lake City Deaflympics. Her team won gold! It was a great experience for her where she can meet new faces. 
Her Goal for the 2019 Winter Deaflympics:
For the 2019 Winter Deaflympics, Sherry will work hard to get the gold!
Her Biggest Accomplishment in Her Sports Career:
She is very proud to be part of Team Canada! 
More about Sherry Clark:  
She loves to walk around looking for artist rocks and spend time with her family.
Her motto:
Play well and have fun!
In the News:
Team Canada deaf curlers looking for sweep of titles (April 13, 2009)