Sasha Laoun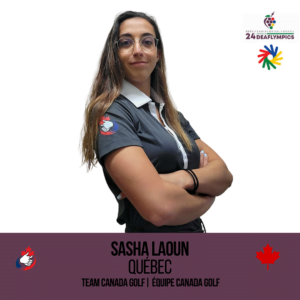 23 years old and from Montreal, Quebec, Sasha graduated from high school at Collège Jean-Eudes and began her college studies at Collège André-Grasset. She completed a bachelor's degree at HEC in Operations Management and Logistics (GOL) and Information Technology (IT).
An accomplished athlete, Sasha enjoys swimming in addition to golf. She trained with the Club de golf de la Vallée du Richelieu and the Club Laval-sur-le-Lac while participating in several tournaments and Canadian amateur and provincial women's championships. This is not her first international competition, as she finished 6th at the World Deaf Golf Championships in Maynooth, Ireland, in 2018.
At the 2022 Deaflympics, Sasha is looking forward to having fun, learning, meeting new people and making new connections. Her goal for these Games is to win and, above all, to learn.
Her favourite golf athlete is Tiger Woods, for his determination.
When she's not golfing, Sasha loves to travel.