Sally Korol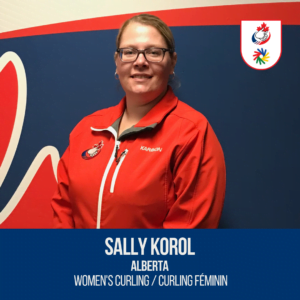 Sport:
Women's curling
Province: Alberta 
Previous Games:
2007 Winter Deaflympics (Salt Lake City, USA)
2009 World Deaf Curling Championships (Winnipeg, Canada)
2013 World Deaf Curling Championships (Bern, Switzerland)
2015 Winter Deaflympics (Khanty-Mansiysk, Russia)
2017 World Deaf Curling Championships (Sochi, Russia)

Her Sports Debut: 
In Winnipeg, she follows her family; especially her mom who played curling for many years. Few of her family members played curling and participate Canada Deaf Curling Championships. Then, she playing curling with her friends when she was 10 years old, then participate school league and ongoing…
Her First International Competition:
She played at the international level for the first time at the Winter Deaflympics in Salt Lake City, Utah. Her first experience was very exciting. At this time, this was Demo for curling then will be officially recognize at next Deaflympic which is 2015. Also, she was 7 months pregnant and still represent Canada! She couldn't miss the opportunity not going. Also, another counties know almost nothing about curling and Canada team teach and support them. It was rich experience!
Her Goal for the 2019 Winter Deaflympics:
She plans to win the gold medal and to have fun with her team! She is very proud to play with her teammates.
Her Biggest Accomplishment in Her Sports Career:
This will be her 6th International events and so participated in many National events. There are so many good and bad memories for her but the most accomplish is at 2018 Canada Deaf Games. The team have been struggling at some point but this doesn't stop them and they won the GOLD after beating Interprovincial at 11th end. They didn't give up at all. This is the best memory she will ever have.
More About Sally Korol:
She likes scrapbooking and movies. 
In the News: