Sally Korol is Team Canada's 2019 Deaflympics Opening Ceremony Flag Bearer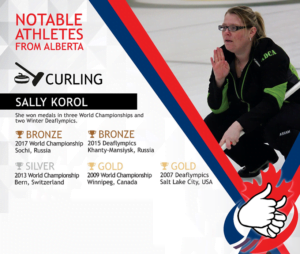 The Canadian Deaf Sports Association (CDSA) is excited to announce that Alberta's Sally Korol will be Team Canada flag bearer at the 2019 Winter Deaflympics Opening Ceremony in Sondrio, Italy on Dec. 12.
Korol has represented Canada in Women's Curling since the sport became official on the International Committee of Sports for the Deaf's list in 2007. She is the only curling player  to have competed in all international events for both sexes, including two Winter Deaflympics and three World Championships. She and her team have won a medal in each of these events.
Korol's name was chosen unanimously by a committee formed of CDSA President Mark Kusiak, CDSA Executive Director Alain Turpin and Team Canada Chef-de-Mission Danny Daniels.
CDSA and the Canadian Deaf and hard of hearing community are proud of Korol's nomination as a flag bearer, and wish the best of luck to Canada's Women's Curling as well as Team Canada in Italy.
Back to News