Ryan Chramtchenko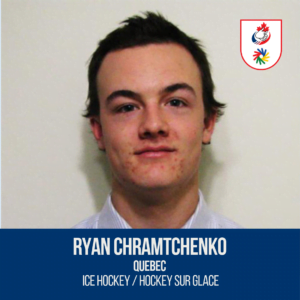 Sport:
Ice Hockey

Age: 29
Height: 5'9″ / 176 cm
Province:  Quebec 
Previous Games:
2013 World Deaf Ice Hockey Championships (Vantaa, Finland)
2015 Winter Deaflympics (Khanty-Mansiysk, Russia)
2017 World Deaf Ice Hockey Championships (Amherst, USA) 
His Sports debut:
He began to develop his passion for hockey by starting in the basement of his parents' home at the age of four.

His First International Competition:
His first international competition was incredible for him during the World Deaf  Ice Hockey Championships in Finland in 2013. 
His Goal for the 2019 Winter Deaflympics:
His goal for this Winter Deaflympics is to be ready physically and mentally to bring home the Gold Medal. 
His Biggest Accomplishment in His Athletic Career:
His biggest pride in his career is to be able to wear the Maple Leaf and play for the country.
More About Ryan Chramtchenko :   
When he's not playing hockey, he loves exploring new experiences. 
His Motto: 
One shift at a time.
In the news: