Russel Bowie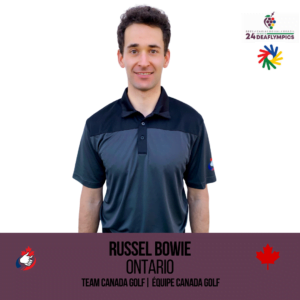 A 30-year-old resident of Mississauga, Ontario, Russel holds a double Bachelor's in Mechanical Engineering and Economics from Queen's University in Kingston, Ontario.
Russel grew up playing sports. He started playing baseball and club hockey from a young age and continued throughout high school. He also played on his high school volleyball team. He started golfing at a young age as well, but only began to prioritize it later in high school. He continued to play golf in university, playing for the Queen's University golf team and serving as its captain. He currently plays competitive golf and recreational volleyball and hockey.
He has already represented his country on the international scene at the 2015 Summer FISU Universiade Games in Gwangju, South Korea, where he finished in 7th place. He also competed in a 2015 Monroe Invitational Championship in Pittsford, New York, where he tied in 32nd. The tournament brings together the best golfers from all ranks of the National Collegiate Athletic Association (NCAA) and North American amateurs. Russel was crowned provincial champion at the Ontario Provincial Championship in 2016 and has participated in several Canadian university and amateur golf tournaments and championships.
At his first deaf sports competition, Russel states: "I am looking forward to participating in the Deaflympics for the first time, being a part of Team Canada and spending time in Brazil."
His goal for these Games is to win a medal with the Team Canada golf team.
His favourite golfer is Adam Scott because "he has a perfect golf swing, is one of the best players in the world, is humble and well-spoken and has a history of dating models and tennis players."
Other cool tidbits about Russel: he is an only child, he can wiggle his ears and his favourite place he has ever travelled to is Mount Kilimanjaro in Tanzania!