Ross LaVallee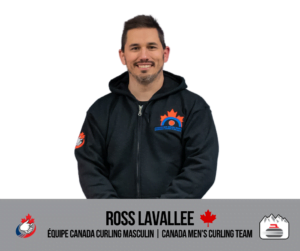 Province: Manitoba (MB)
His goal for the 2022 World Curling Championship is:
To get Canada back in the spotlight of international Deaf curling and to be back on the podium.
His favourite curling athlete (idol) or team is:
Brad Gushue's team is one of his favourites. One of the main reasons for this is their attitude and resilience. They have stayed together for a long time and their attitude towards everyone has been exceptional. Win or lose, they always maintain a positive front and interact with everyone. He has seen many teams who acknowledge the crowd when they win but don't if they lose. Gushue does not do that.
His success in curling is due to:
His dad. When he was young, his dad always took him to curling, and he has always been very encouraging of his curling skills. He takes him to many bonspiels, including in the US (North Dakota) with one of his childhood friends. It is because of him that he fell in love with curling.
More about Ross:
This will be his first time skipping at an international curling level, but his second time playing. He is also a smart home enthusiast; he is always looking for ways to tap into smart home technology to benefit the Deaf community. He currently has 25+ possible notifications at his home when standard notification systems for Deaf people are capped at 5 or 6!