Roger Chan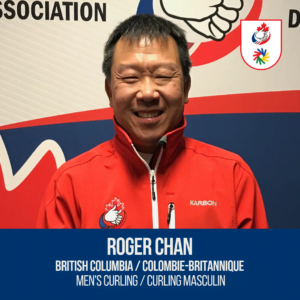 Sport: Men's curling
Province: British Columbia
His Sports Debut:
He start played curling when he was in high school at the Vancouver Curling Club in 1980. He was 16 years old.
His First International Competition:
Theses 2019 Winter Deaflympics will be his first international competition. 
His Goal for the 2019 Winter Deaflympics:
The team will do his best at the play and he hopes to win gold.
His Biggest Accomplishment in His Athletic Career:
He is proud to attend an international game with the help of his coach and his interpreter. The upcoming Deaflympics will be his first experience, which will be a very rewarding experience.
More about Roger Chan:
He loves camping, hiking and kayaking.
His motto: 
Play well and have fun!
In the News: