Raymond James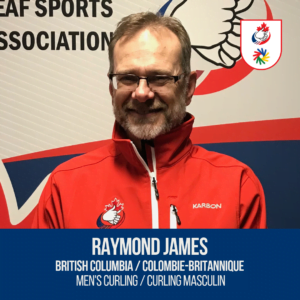 Sport: Men's curling 
Province: British Columbia 
His Sports Debut:
He started learning curling in Saskatoon at Saskatchewan School for the Deaf. Then, he started to watched Brier Labatt curling and the Air Canada Silver broom on TV when he was 16 years old.

His First International Competition:
This 2019 Winter Deaflympics will be his first international competition. 
His Goal for the 2019 Winter Deaflympics:
His goal is to win gold medal and enjoy the games and come back with good memories!
His Biggest Accomplishment in His Athletic Career:
His pride is having abilities to work hard with his team!
More about Raymond James: 
When he's not playing curling, his favorite hobby is to travel anywhere!