Rahul Vishwakarma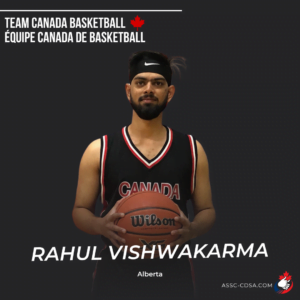 Rahul is 21 years old and lives in Edmonton, Alberta. He plays for the Lions Men's team in the Edmonton Basketball Association. Rahul won silver at the 2018 Canada Deaf Games in Winnipeg in 3×3 basketball.
This is not Rahul's first international competition:
2018 – U21 World Deaf Basketball Championship in Washington, USA
He is very excited to play with the team this year. This will be his first time participating in the Pan American Deaf Games. His goal is to help the national team qualify for the Summer Deaflympics in Tokyo, Japan in 2025.
Rahul admires his favourite player, Kevin Durant, who is currently playing with the Brooklyn Nets. He is the NBA's leading scorer and his play as a point guard is extremely unique given that he's 7'0″.
An interesting fact about Rahul: he can play any sport.