Rachel Eastwood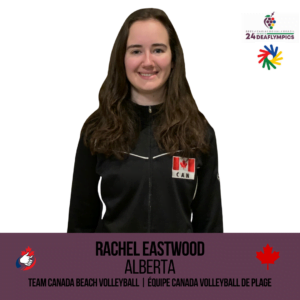 Rachel began her volleyball career at Western Canada High School and with ACE Volleyball Club.  After high school, she attended the University of Victoria earning a B.Sc. in Linguistics while playing on the UVIC Women's Club team. She is currently coaching with the U13 and U15 girls' program at ACE Volleyball Club.
Rachel's first exposure to Deaf sport was attending the Pan Am Games and World Championships in 2016 in Washington, DC. As a result of the indoor women's team qualifying, she is participating in the 2017 Deaflympics in Samsun, Turkey. She has since participated in a friendly tournament in France 2018, and Pam Am Games 2019 in Brazil. This will be Rachel's first international competition as a beach volleyball player.
Rachel is looking forward to a new experience of playing competitive beach volleyball, seeing more of Brazil, and meeting other Deaf Canada athletes.  For herself, she wants to focus on one point and one game at a time. She says, "the tournament is long and draining, therefore competing requires tons of mental and physical strength. I feel prepared for at this Deaflympics."  
Aside from volleyball, Rachel is an Educational Assistant for the Deaf and hard of hearing children at Connect Society Kindergarten program.
Written by Mary Dyck, Team Manager – Men's and Women's Volleyball