Paul Halas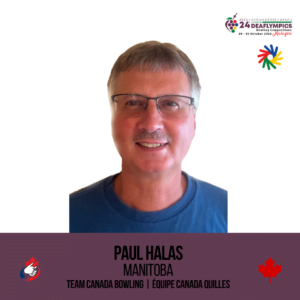 Paul, age 58, from Winnipeg, is an avid sportsman. He recently participated in the 2022 Canada Deaf Games in Laval, Quebec for golf, pickleball and bowling.
This is not his first international competition. He has participated in 6 Deaflympics, 3 World Championships and 2 Friendly Games. He has also competed in the Pan American Deaf Games, where he won 4 medals.
Here is his international bowling record:
1997 – Deaflympics in Copenhagen, Denmark
2001 – Deaflympics in Rome, Italy
2003 – World Deaf Bowling Championships in Taipei, Taiwan
2005 – Deaflympics in Melbourne, Australia
2007 – Pan American Deaf Games in Valencia, Venezuela (1 gold medal, 2 silver medals and 1 bronze medal)
2009 – Deaflympics in Taipei, Taiwan
2011 – World Deaf Bowling Championships in Buenos Aires, Argentina
2013 – Deaflympics in Sofia, Bulgaria
2017 – Deaflympics in Samsun, Turkey
2019 – World Deaf Bowling Championships in Taipei, Taiwan
For his 7th Deaflympics, Paul hopes to medal. He's aiming to bowl consistently and thereby qualify for the Masters.
His idol is Walter Ray Williams, a professional bowler on the Pro Bowlers Tour.
An interesting fact about Paul, he works as a letter carrier with Canada Post!