Pan American Basketball Championship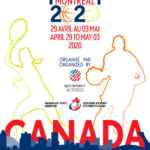 The Pan American Deaf Basketball Championship will allow to select the best three men's teams and two best women's teams for the 2021 Summer Deaflympics. The event is sanctioned by the Pan American Sports Committee for the Deaf.
Latest News
Update #1 – January 16th, 2020
Update #2 – February 17th, 2020
Update #3 in IS
Competition Venue
Centre sportif Jean-Rougeau
8000 Rue de Normanville, Montreal, QC H2R 2V6
Metro/Subway: Jarry
Preliminary Schedule
April 29th to May 3rd, 2020  (*Exact schedule to be confirmed)
Wednesday, April 29th: 6:30pm – 10:30pm
Thursday, April 30th: 6:30pm – 10:30pm
Friday, May 1st: 6:30pm – 10:30pm
Saturday, May 2nd:  8:00am – 8:00pm
Sunday, May 3rd: 8:00am – 4:00pm
Fees Registration
Cost per team:
Early Registration before January 31st, 2020: $325 US
There are two ways of sending payments
Swift-Wire to Canadian Deaf Sports Association
Late Registration from February 1st to 28th, 2020: $425 US
Technical Regulations
Accommodation and Package
Booking Form: Deadline is March 1st, 2020
Accommodation, transportation and 3 meals per day packages are available at a cost of $115 US per day per athlete in double occupancy.
To Register
Deadline March 1st, 2020: Form 3 – Official Registration Form and Final Entry Form (18 athletes and 7 officials)

Deadline April 28

th, 2020: Form 4 – Final Roster Form (12 athletes)
Team Training
Training slots are available on Monday, April 27th and Tuesday, April 28th from 8:00am to 5:00pm. The country must indicate its 3 top choices for training slots (times) by filling out this form. Deadline is March 15th, 2020.