Owen Hunter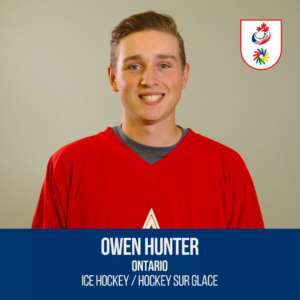 Sport: Ice Hockey 
Age: 20
Province:  Ontario 
Previous Games:
2015 Winter Deaflympics (Khanty-Mansiysk, Russia)
2017 World Deaf Ice Hockey Championships (Amherst, USA)
His Sports Debut:
He begins by watched Toronto Maple Leafs in TV and started playing in Timbits Hockey due to some aggressiveness at 7 years old. Hockey has been truly beneficial to his emotional management.

His First International Competition:
His first international competition was the 2015 Winter Deaflympics in Russia. This experience was surreal, he will never forget. 
His Goal for the 2019 Winter Deaflympics:
His goal for this Winter Deaflympics is to bring Gold and nothing else. 
His Biggest Accomplishment in His Athletic Career:
His biggest pride in his hockey career is to win Silver medal in Russia! He never has been so proud to represent his country.
More about Owen Hunter:
Hockey, hockey and always hockey! 
His Motto: 
Only think about one thing: bring home the gold!
In the News: