Nyla Kurylowich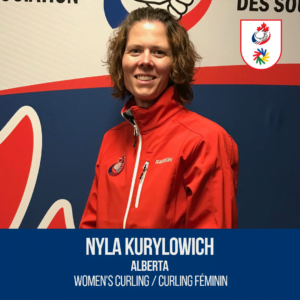 Sport:
Women's curling
Province:  Alberta
Previous Games:
2009 World Deaf Curling Championships (Winnipeg, Canada)
2013 World Deaf Curling Championships (Bern, Switzerland)
2017 World Deaf Curling Championships (Sochi, Russia)

Her Sports Debut:
She used to play Ringette and Ice hockey and always loved the ice. Unfortunately, she had to retire from ice hockey due to an injury. Judy Robertson, retired Deaf curler, introduced and encouraged her to try for curling as there was a need for new curlers for Alberta's women's team. Why not! She loves to play curling. Ice is in her blood. 
Her First International Competition:
Her first international competition was in Winnipeg at the 1st World Ice hockey and Curling championship. Her team won the Gold medal. For her, it was inspiring to play against other women's curling teams from different countries. It was amazing to play at a high-performance level of curling. The play was intense to make sure her team won the Gold medal. Her dreams came true!
Her Goal for the 2019 Winter Deaflympics:
Her goal for Deaflympics is to play well and win a medal and to have her best curling performance. Also, to meet new Deaf women's curlers from other countries and learn Italy's culture, food and more.
Her Biggest Accomplishment in her Sports Career:
Her proudest achievement is attending Deaflympics. It is her first time to be in Deaflympics. Her dream finally comes true. Her past experience at Deaflympics in Slovenia was awful. Now, it becomes a positive experience. Her 19 years of curling finally paid off to be in Deaflympics! 
More about Nyla Kurylowich:
When she is not playing curling, she loves to be in nature camping, gardening and skiing!
Her Motto:
« One spirit, one team, one win » and « There is no I in Team ».
In the news: