Nasir Uddin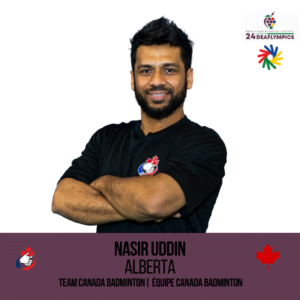 Nasir is 46 years old and lives in Calgary, Alberta. He is second-degree black belt in karate and has competed throughout Asia in karate and kickboxing competitions. He was also a karate instructor for 5 years, as well as a gym owner and operator in Bangladesh.
This will be his first competition at the Deaflympics. "I am excited to take part in my first global competition and meet other deaf athletes from all over the world." His main goal is obviously to represent Canada well.
Financial assistance from CDSA allowed him to undergo badminton training two to three times a week and was very helpful. These training sessions had 'a huge impact on my skill level and the players on our team have all learned more about the sport and improved significantly. Thank you giving us this opportunity."
Nasir was born in Bangladesh and moved to Canada 18 years ago. He has two children who are both excel in their favourite sport and he looks forward to the day when they will surpass their father's level!