Michael Preer III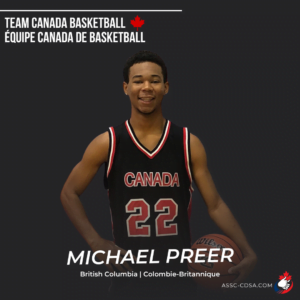 Michael is 21 years old and is from Surrey, British Columbia. He has been playing basketball for several years. 
This is not Michael's first time playing for Team Canada. His track record is as follows:
2018 – U21 World Deaf Basketball Championship in Washington, USA
2019 – US Deaf Basketball Tournament in Indianapolis, Indiana, USA
He is looking forward to playing against the United States and Trinidad and Tobago, as he himself is a native of and has familial ties to both countries. His goal is to bring success to his team and qualify for the next Deaflympics.
His favourite basketball players are Damian Lillard and Paul George. He likes the way Damian Lillard carries himself on the court with a fearless mentality and how his style of play gets the attention of defenders because he scores almost every time from mid-court. He likes Paul George because he has gone through a lot of adversity with injuries but has still managed to come back and play at a high level. He likes that George is a two-way player, able to guard the best players if he needs to, while still performing well offensively.
An interesting fact about Michael: he shoots with his right hand, even though his dominant hand is his left.