Michael Merriman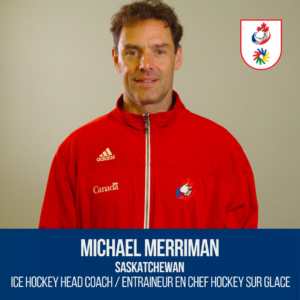 Mission Staff:
Ice Hockey Head Coach
Province: Saskatchewan
Previous Games:
1995 Winter Deaflympics (Yllas, Finland)
1999 Winter Deaflympics (Davos, Switzerland)
2003 Winter Deaflympics (Sundsvall, Sweden)
2007 Winter Deaflympics (Salt Lake City, USA)
2009 World Deaf Ice Hockey Championship (Winnipeg, Canada)
His First International Competition:
He started back in 1995 at the Deaflympics as a player in Finland when he was 25 years old. It was an awesome experience and was honoured to be a part of this organisation.
His Goal for the 2019 Winter Deaflympics:
His goal for the upcoming Deaflympics is to lead the players and staff to a positive experience of the games as much as he did as a player.
His Biggest Accomplishment in His Sports Career:
First as a player winning back to back gold medals. Now as a coach to give back to the organization.
More About Michael Merriman:
He loves spending time with his family.
His motto:
Struggle and emerge.
In the news: