Men's and Women's Volleyball Teams are Developing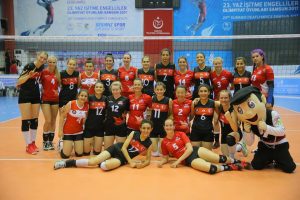 The national men's and women's volleyball teams just ended a 4-year cycle after the 2017 Summer Deaflympics that were held in Samsun, Turkey. Few players retired from their athletic careers leaving spots to fill in.
Team Manager Mary Dyck from Alberta will keep her eyes open for new talent, and she will begin her search this month at the Canada Deaf Games in Winnipeg.
"We're in a new 4-year cycle to the next Deaflympics. This is year one, so we begin to form the next teams," said Dyck. "I am excited to come to the Canada Deaf Games and see some new players. I expect to see some great volleyball action."
Dyck was recognized as leader of the year in 2016 by the Canadian Deaf Sports Association (CDSA) for her time and devotion.
Dyck will also attend the CDSA Coach Summit that will be held during the Games. She looks forward to the opportunity of meeting other CDSA coaches and team managers as well as to learn more on how to improve current programs.
Development
Dyck is the Team Manager of the national men's and women's volleyball teams since 2015, and since then she participated in three international competitions: Pan American Games, World Deaf Volleyball Championships and 2017 Summer Deaflympics.
"We have played against the best teams in the world during these events. The teams are always developing," said Dyck. "We have training camps every year and it is critical for players to attend these events. Each training camp allows the teams to spend quality time developing their skills, tactics and team play."
The next training camp for the women's team will be in France this May while the team will compete in an European tournament organized by the Montpellier Deaf Sports Club for its 80th anniversary. Thanks to financial assistance provided by the CDSA Long Term Athlete Development Program, new players will be able to participate in the camp and tournament.
Until then, athletes will take part in a co-ed volleyball event at the Canada Deaf Games from Feb. 21 to 24. See the Games schedule.
Back to News