Melanie Lopes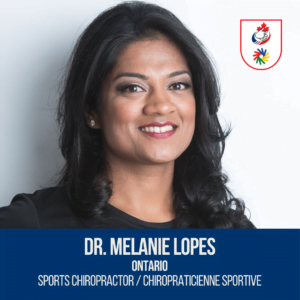 Mission Staff:
Team Doctor
Province: Ontario
Her Sports Debut as Doctor:
She started volunteering with  CDSA for a women's volleyball and track & field training camp event back in 2015. She started learning ASL in Fall of 2014 and loved it and started to look for opportunities where she can mix ASL with her love of sport!
Her First International Competition:
She will be volunteering as a sports chiropractor for the 2019 Winter Deaflympics.  She has travelled with soccer teams for training and competition in South America but this will be her first international event she'll helping out with. 
Her Goal for the 2019 Winter Deaflympics:
She can't wait to use her ASL skills which she has been working on for the last 5 years and get to mix it with sports chiropractic! She is looking forward to engaging with other members from the community from all different parts of the world and learn more about deaf culture from an international perspective.
Her Biggest Accomplishment in His Sports Career:
She has always dreamed of representing her country and look to the Olympics or any International Sporting event as a huge deal! She takes pride in representing the Canadian flag proudly, and excited to do her very best for our athletes and team at this event!
More about Melanie Lopes:
She enjoys long distance running, salsa dancing, as well as learning Spanish and ASL.
She can also be followed on social media:
Instagram:  @drmelanielopes and @361clinic
Facebook: @361clinic
Her motto:
Some key mottos that she usually says include: Go Big or Go Home! Aim for the Stars! Ultreya! (which in Spanish means " keep going, go beyond")