Massimo LUCIANI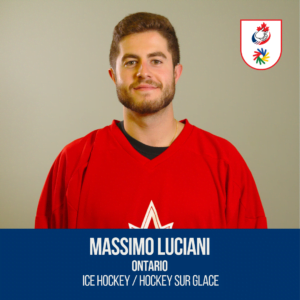 Sport:
Ice Hockey
Age: 22
Height: 5'9″ / 175 cm 
Province: Ontario
Previous Games:
N.A.
His sports debut:
He learned to skate before he learned to walk at 2 years old when his father handed him a hockey stick. He immediately fell in love with hockey. He started playing in the driveway and gradually grew into bigger leagues.
His first international competition:
At barely 10 years old, Luciani had his first international competition at the Brick Invitational Tournament for Montreal's Ice Storm. It was a great experience for him as he enjoyed playing in front of a large audience while having the opportunity to win an international tournament, which was an amazing experience for him.
His goal for the 2019 Winter Deaflympics:
His goal for this year is to win gold with his teammates.
His biggest accomplishment in his athletic career:
Every time that he won with his team.
More about Massimo Luciani:
When he's not playing hockey, he also enjoys cooking.
His motto:
If you're not first, you're last.
In the news:
N.A.