Martin Hong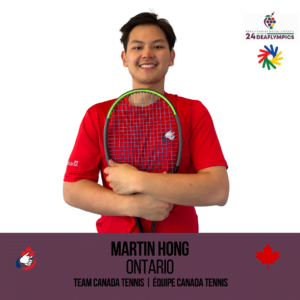 From Oakville, Ontario, Martin Hong is a 24-year-old athlete. He plays for the University of Guelph tennis team in Ontario. This is Martin's second international competition, having competed at the 2017 Deaflympics in Samsun, Turkey.
Martin is looking forward to meeting other great athletes from around the world and representing Canada on the world stage! During the 2022 Deaflympics in Brazil, Martin aims to achieve his personal goals in his tennis matches and to be as fit as possible at the start of the Games.
His tennis idol is Roger Federer because his style of play is so smooth and beautiful to watch. But lately he likes to watch Carlos Alcaraz, who is very exciting and entertaining.
An avid sportsman, in his spare time, Martin is a part-time napper, Spikeball player, cyclist and snowboarder.