Mark Kusiak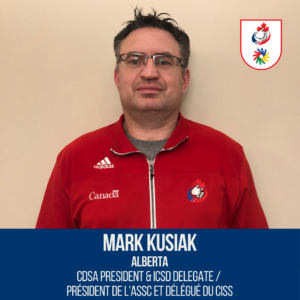 Mission Staff:
CDSA President and ICSD Delegate
Province: Alberta
Games: World Deaf Games 1991 (Banff, Canada)
His Sports Debut:
His family influenced him into sports. He has been very active in sports (hockey and soccer) since he was 6 years old. He started speed skating at 13 years old and rowing at 15 years old. He started speed skating after watching 1988 Olympics in Calgary on TV. Rowing was his "summer" training in preparation for speed skating but was addicted and involved in this sport. His family believes in an active life so they put him to play hockey, soccer and t-ball when he was young. When he grew up, he had few sports he could chose to play – volleyball, basketball, speed skating and rowing. 
His First International Competition:
His first international Competition was in the World Deaf Games 1991 in Banff, Canada. It was an amazing experience. There's no words that could describe the experience: sign language and Deaf culture is everywhere.
His Biggest Accomplishment in His Sports Career:
He is very proud to have competed in World Deaf Games and represent Canada.
More about Mark Kusiak:
He loves play pickleball and do CrossFit.
His Motto:
Go big or go home
In the News: