Marc Pelletier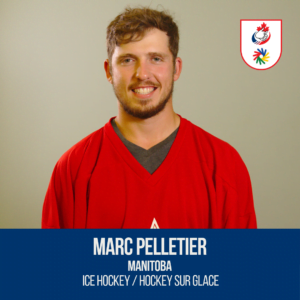 Sport: Ice Hockey 
Province: Manitoba
His Sports Debut:
When he was young, at 4 years old, his dad brought him to the rink. Once he had seen the ice, he told him ''I want to play". Then, he started to play as goalie at 7 years old in his small town with the Ste. Anne Aces.
His First International Competition:
This 2019 Winter Deaflympics will be his first international competition. 
His Goal for the 2019 Winter Deaflympics:
His goal for these Deaflympics is to get know his teammates more and to win gold medal. 
His Biggest Accomplishment in His Athletic Career:
His biggest accomplishment is train young kids and adults how to play goalie and make theirs athlete careers successful. Also, he feels truly honored to play for Team Canada, to learn more ASL and to understand this world.
More about Marc Pelletier: 
He loves woodcraft, hunting and fishing.
His motto: 
Never lose, either win or learn.