Kyle Acosta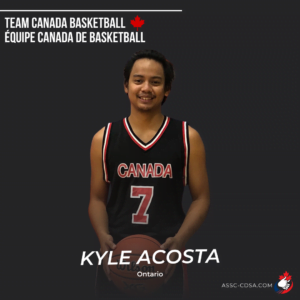 Kyle, 24, of Brampton, Ontario, was previously an assistant coach helping teach basketball and playing with his team in a hearing league.
This is not Kyle's first international competition with Team Canada. His track record is as follows:
2018 – U21 World Deaf Basketball Championship in Washington, USA
2019 – US Deaf Basketball Tournament in Indianapolis, Indiana, USA
At the upcoming 2022 Deaf Pan American Games, Kyle is striving to support Team Canada and cooperate with all his teammates using good communication.
Kyle's favourite basketball player is Stephen Curry, an American point guard for the Golden State Warriors in the NBA who is known for his three-point shooting skills.
An interesting fact about Kyle: participating in the Deaflympics for the first time is a dream of his.