Kimberly Summers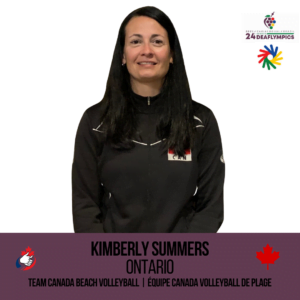 Kimberly is originally from Waterford, ON. After high school, she attended Gallaudet University in Washington DC (1 year) and Mohawk College (3 years). She plays in several adult leagues. She is also on the Canada Deaf Indoor Volleyball team.

Kim's first contribution to Deaf indoor volleyball was at the 2001- Deaflympic in Rome, Italy.
Her legacy includes:
2007– Pan Am in Valencia, Venezuela (Gold Medal)
2008– World Championship in Buenos Aires, Argentina
2012– Canada Deaf Games in Edmonton, Alberta (Gold Medal)
2012– Pan Am in Prairie Grande, Brazil (Silver Medal)
2013– Deaflympic in Sofia, Bulgaria
2016– Pan Am in USA Washington DC (Bronze Medal)
2016– World Championship in USA Washington DC
2017– Deaflympics in Samsun, Turkey (Flagbearer)
2019– Pan Am in Brasilia, Brazil.
This will be Kim's first international competition as a beach volleyball player. Kim is looking forward to this new experience of competing in Beach Volleyball at international level. "There are a lot of different techniques, game strategies, challenges, and weather temperatures due to beach being an outdoor event compared to indoor volleyball."
Her goals are "to play our best, despite our limited experience with beach volleyball; represent Canada to the best of our abilities; no matter what, give all I can; reach as high as possible and to play well."
Written by Mary Dyck, Team Manager – Men's and Women's Volleyball