Katie Witt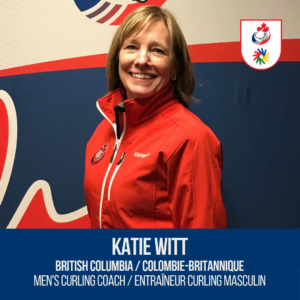 Mission Staff:
Men's curling coach
Province: British Columbia
Her Sports debut: 
She started curling in Brantford, Ontario in 1973. 
Her First International Competition as Coach:  
These 2019 Winter Deaflympics will be her first international competition as men's curling coach. 
Her Goal for the 2019 Winter Deaflympics:
As coach of Team Canada Men's Curling team, her job is to help them manage themselves on and off the ice to perform well.
Her Biggest Accomplishment in Her Sports Career:
In 2018, she coached 3 teams to 2 national gold and one national silver medal.
More about Katie Witt:
Other than coaching and playing curling, she golf, travel and knit.
Her motto:
Stay focused on the task at hand and the outcome will take care of itself.