Joshua Baerg Aims for a Canadian Record at the World Deaf Swimming Championships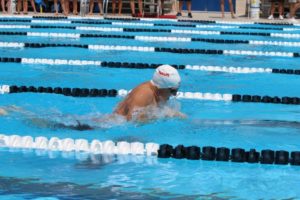 It was in San Antonio, Texas, in 2015 when Joshua Baerg made an individual final for the first time representing Canada on the Deaf swimming international stage, and he exceeded his own expectations by placing fifth.
Baerg would like to do better at the next World Deaf Swimming Championships in August 2019 in Brazil.
"I am aiming to build upon my sprinting strength by becoming stronger and more explosive.  I am hoping that we will be able to find more young Deaf swimmers to build our team and break another Canadian record!" said Baerg.
A native of Ladner in British Columbia (BC), Baerg took part in his first Deaf competition at the 2012 Pan American Games in Brazil where he won five Gold medals and one bronze. "It was an amazing experience that really cemented my love for the sport of swimming," he said.
Swimming: An Important Part of his Life
Baerg graduated this year from the University of Lethbridge in Alberta with a Bachelor degree in Science and Geography with a minor in History. During his studies, he swam with the varsity swim team, the Pronghorns.
His training regimen included 20 to 25 hours of pool time and dry land training. On top of his studies and training, Baerg was also competing on the weekends during the varsity season from October to February. Before his university studies, Baerg trained with the Winskill Dolphins in Tsawwassen, BC, and occasionally with the University of British Columbia.
This young man particularly enjoys sprint events, such as the 50-metre backstroke and freestyle. Baerg also likes to compete in the medley relay and team events.
"I find it so exciting to race others to the other side of the pool rather than see who is the fastest after eight laps," said Baerg, who carried the Canadian flag at the Closing Ceremony of the 2017 Summer Deaflympics in Turkey.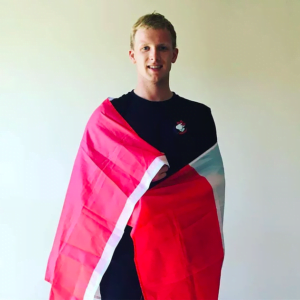 Baerg is now back in his native province where he is studying Environmental Engineering at the British Columbia Institute of Technology. He continues to train with the Winskill Otters swim club along with the Deaf Canadian swimming team coach Judy Baker.
Back to News