Jesse McIntyre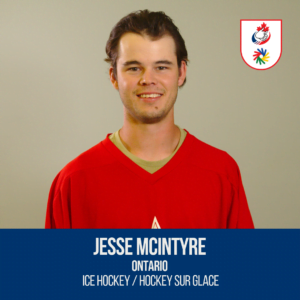 Sport: Ice Hockey 
Province: Ontario
Previous Games:
2017 World Deaf Ice Hockey Championship (Amherst, USA)
2015 Winter Deaflympics (Khanty-Mansiysk, Russia)
2013 World Deaf Ice Hockey Championship (Vantaa, Finland)
His Sports Debut:
He started playing hockey in Clinton, Ontario when he was 4 years old. His parents has a big influence on his reasons to play. His parents lapped him on the skates, grabbed a stick and away they went.

His First International Competition:
His first international competition was the 2013 World Deaf Ice Hockey Championship in Vantaa, Finland. It was an unbelievable experience to travel and play the game he loves, especially in such a unique environment.
His Goal for the 2019 Winter Deaflympics:
His ultimate goal is to bring home the gold medal.
His Biggest Accomplishment in His Athletic Career:
He is very proud to play hockey, to be a Canada team player. He hopes to bring home a gold medal.
More about Jesse McIntyre:
He only loves hockey.
His motto: 
You miss a 100 percent of the shots you don't take. -Gretzky
In the News: