Janice McLaren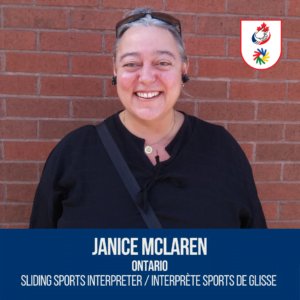 Mission Staff:
Sliding Sports ASL Interpreter
Province: Ontario
Previous Games as an ASL Interpreter:
2017 Summer Deaflympics (Turkey)
2015 Winter Deaflympics (Khanty-Mansiysk, Russia)
2013 Summer Deaflympics (Bulgaria)
2009 World Hockey and Curling Championships (Winnipeg, Canada)

Her Debut in Sports Interpreting:
She became a sports interpreter by being involved in the Deaf Curling League in Ottawa in 1997-1998. Then, she was part of many deaf training and selection camp in several sports and many deaf sporting events in international and national level. She was brought along by seasoned Interpreters who gave her the confidence to work with CDSA over the years and the tremendous support she has received from the Deaf community that has allowed her the privilege of being so involved in Deaf sports.
Her First International Competition as a Sports Interpreter:
2009 Summer Deaflympics in Taipei, Taiwan. 
Her goal for the 2019 Winter Deaflympics:
Her goal is to continue to provide access to communication and be the best support she can be for Team Canada in whatever way is needed.
Her Biggest Accomplishment in Her Career:
To provide the cultural and language supports need to allow the Deaf, Deafened, Hard of Hearing Athletes get what they need from their Coaches and obtain their personal bests during the competition.
More about Janice McLaren:
She likes anything outdoors, reading and socializing!
Her motto:
All you can do is give it your all and never give up. Tomorrow is a new day and let the adventure begin! You can accomplish any goal you set your mind to. Surround yourself with positivity and move forward!