Jalen Harris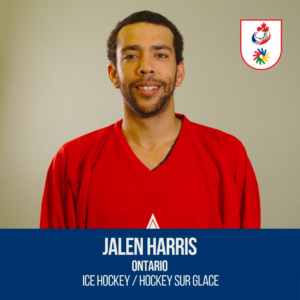 Sport:
Ice Hockey
Age: 19
Province: Ontario
Previous Games:
2009 World Deaf Ice Hockey Championship (Winnipeg, Canada)
His Sports Debut:
He started playing street hockey at 3 years old. Then, he started playing hockey at 7 years old in Warren Park House League. He moved up to GTHL as an Eagle and he played AAA for the Mississauga Rebels. He also played baseball by starting in little league at High Park at 5 years old. He moved on to play on a travelling team and made the Canadian Junior national team and they placed 4th in the World Juniors. He was drafted out of high school in the MLB by the Milwaukee brewers. He played in the minor league for 3 years. 
His First International Competition:
In 2009, he played on the Deaf hockey team for the World Deaf Ice Hockey Championship in Winnipeg when he was only 16 years old. It was an amazing experience for him. He enjoyed meeting people from all over the world and also, it was amazing to meet Walter Gretzky.
His Goal for the 2019 Winter Deaflympics:
His goal for these 2019 Deaflympics is to bring the gold metal home. 
His Biggest Accomplishment in His Athletic Career:
Whenever he can wear Canada across his chest. 
More about Jalen Harris:
He loves coaching and training young baseball players.
His Motto:
Work hard, be positive and have fun
In the News: