Ian Molenaar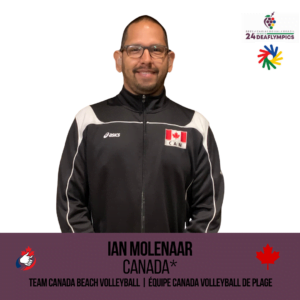 Ian began his volleyball career  at Langley Christian High School, where his team made three provincial appearances in a row.  After high school, he attended Kwantlen University College, Langley Campus and continued to help coach at Langley Christian High School. Ian has also help coach with Seaside Girls Volleyball Club and Fraser Valley Volleyball Club. He plays in many different leagues indoor and beach in his current location of Dallas, Texas.
Ian participated in beach volleyball at the 2009 Deaflympics, Taiwan Taipei placing 5th, and also competed in indoor volleyball at the Pan Am Games and World Championships in 2016, Washington, DC. He has competed with several Team BC at the Canada Deaf Games.
Ian is looking forward to competing on the world stage again and representing Canada. The Deaflympics are a great opportunity to meet Deaf and hard of hearing athletes from around the world. Ian's goals are to "to do my best and have a great attitude." 
Aside from volleyball, Ian is the Office Manager for Cosenza and Associate in Dallas, Texas, a company that sells mathematics resources to schools. He also plays tennis, Alto Saxophone and flute.
Written by Mary Dyck, Team Manager – Men's and Women's Volleyball