Hubert Demers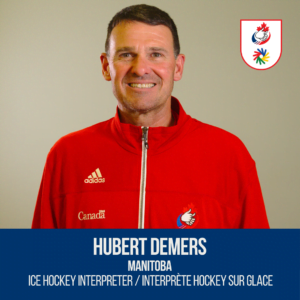 Mission Staff:
Ice Hockey Interpreter

Province: Manitoba

His Sports Debut as Interpreter:
He first met Deaf people at the Saskatchewan School for the Deaf (SSD) when he was in university. He started interpreting in 1986. 
His First International Competition:
The first time he interpreted international Deaf hockey was the 1991 World Winter Games of the Deaf (now Deaflympics) in Banff. It was a fantastic experience. He drove from Winnipeg to Calgary, Banff, and Canmore to volunteer. 
His Goal for the 2019 Winter Deaflympics:
For Team Canada to succeed!
His Biggest  Accomplishment in His Sports Career:
He is very proud of Team Canada who all come together to compete, win, meet old friends or make new ones and have memories forever!
More about Hubert Demers:
Sports, sports and sports.
His motto:
Never give up!