Holly Maschmeyer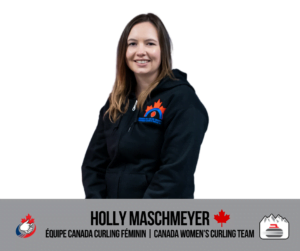 Province: Alberta (AB)
Her goal for the 2022 World Curling Championship is:
To win gold!
Her favourite curling athlete (idol) or team is:
Cheryl Bernard. Holly became a "junior star" with her team at the Roar of the Rings in 2009, where she won. They then saw each other again a few years later with Cheryl's Olympic silver medal, and she signed a photo of them together in 2009. She was a key inspiration to her as she went through the trials that year as an unexpected champion, and she represented Canada well.
Her success in curling is due to:
Her involvement in the junior curling program at the Sherwood Park Curling Club at the age of 9. This led her to the Bear's & Panda's Varsity Curling Program at the University of Alberta, where she had the opportunity to access world-class coaches, sports psychologists, personal trainers, etc., and to train alongside other dedicated student athletes. Since then, she has carried the knowledge and experience she gained there to get where she is now.
More about Holly:
She recently completed a master's program in Deaf/hard of hearing education; she is thrilled to be in a position today where she can work with students who are DHH and support as many of them as she can to achieve academic, social, linguistic, and vocational success.