Hannah Brown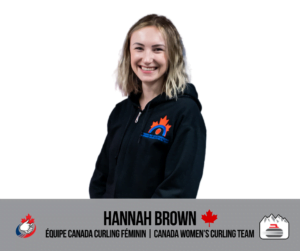 Province: Manitoba (MB)
Her goal for the 2022 World Curling Championship is:
Obviously, to win the gold medal; otherwise, to have good games against the other teams, to keep the games close if we lose, to have strong team communication and debriefs after each game to talk about the highs and lows, and to have a great time!
Her favourite curling athlete (idol) or team is:
Kaitlyn Lawes. She grew up watching her succeed out of Juniors in Manitoba and consistently act as a great rock and supporter for Jones. I think Kaitlyn represents the ideal 3rd. She has excellent on-ice focus and her head is constantly in the game—she watches the opposition's shots and how the rock moves with the ice.
Her success in curling is due to:
She learned to curl at 11 years old at the Pembina Curling Club. From there she began curling competitively, leading her to win the U18 provincial championships, play in the U21 semi-final qualifiers and compete against many of the top junior curlers in Manitoba. Her success stems from the support of her teammates, friends and family, as well as her dedication to and drive for the sport of curling.
More about Hannah:
She is a graduate of the Master of Occupational Therapy program at the University of Manitoba. She currently works as an Occupational Therapist in Jordan's Principle, which is a Child First Initiative providing services to children aged 0–5 in Indigenous communities. In her younger years, she spoke at a fundraiser to some members of the Legislative Assembly (MLA) in Winnipeg about the importance of implementing newborn hearing screenings in the province. Since this speech and several visits to the legislature, the bill for Newborn Hearing Screening was passed in 2016 in Manitoba.