Hai Diec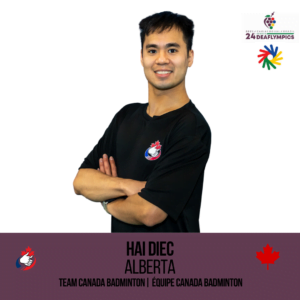 From Calgary, Alberta, 33-year-old Hai will be competing at the 2022 Deaflympics in Brazil for the first time. He did, however, compete in the World Deaf Badminton Championships in Taiwan in 2019.
He trains at the Calgary Badminton Club and he had the opportunity to be coached by Amit Kshatriya, an NCCP certified coach with over 10 years of experience. Hai also trains at Calgary's Drivesports Badminton for competitions.
At the Deaflympics in Brazil, he aims to meet new deaf people, learn about cultures from different countries and have a new experience in the world of badminton. "I want to understand how I can improve my skills and I want to build my experience. And of course, I want a medal!"
With financial assistance from the CDSA, he underwent badminton training two to three times a week and worked out at the gym twice a week.
In his spare time, Hai enjoys landscape and nature photography and PC games.